The Redheads
On July 28, 1926 Annette made a test recording with the encouragement of Wally Rose.
She made it for the label Pathe Actuelle. It was a medly with her voice, and her own piano playing. Unfortuately, her piano playing wasn't up to professional standards of the time and so the record was never released. However, not to be stopped Wally looked for other musicians with which Annette could record with. He was quite lucky in finding one of the most outstanding grous of the time. On September 12, 1926 Annette recorded two cuts, "Black Bottom" and "Six Feet of Papa" with a group called the Red Heads. This group was led by one of the most recorded trumpet players of the twenties, Red Nichols. Red Nichols played in such bands as the Sam Lanin Orhchestra, George Olsen and Don Voorhees Orhcestra (who played on Captain Henry's Showboat). The Red Heads were composed of the following personnel: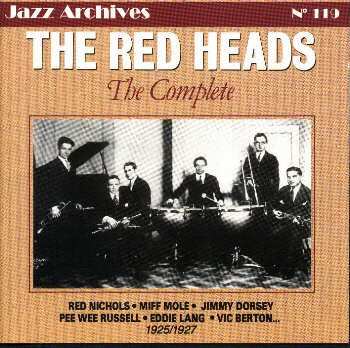 | | |
| --- | --- |
| Musician | Instrument |
| Red Nichols | Cornet |
| Miff Mole | Trombone |
| Jimmy Dorsey | Alto-Saxophone |
| Irving Brodsky | Piano |
| Howdy Quicksell | Banjo |
Eddie Lang one of the greatest guitarists of the 1920's also played with the Red Heads and who also became a good friend of Annette in the early days. Eddie Lang is perhaps a pivotal player for Annette because he also became good friends with Bing Crosby and played with him on The Big Broadcast where you can actually see Eddie Playing for Bing in "The Big Broadcast of 1932". It was around 1931 when Bing decided to go into a solo career he chose Eddie Lang to accompany him on all his live broadcasts, films and recordings. In fact it was Bing who told Eddie to go see a Doctor when his tonsils flared up and who later died from a botched surgery. It is tantalizing to think about the possibilities of Annette and Eddie Lang and Bi ng Crosby getting together for a number. They all played in the same circles and Annette and Bing playing with the same groups only a month a part in some instances.