The Big Broadcast was a starring vehicle for Bing Crosby but both Harry Richman and
Annette would sing one of its songs, "It Was So Beautfiul". Annette's version would be recorded on
August 16, 1932.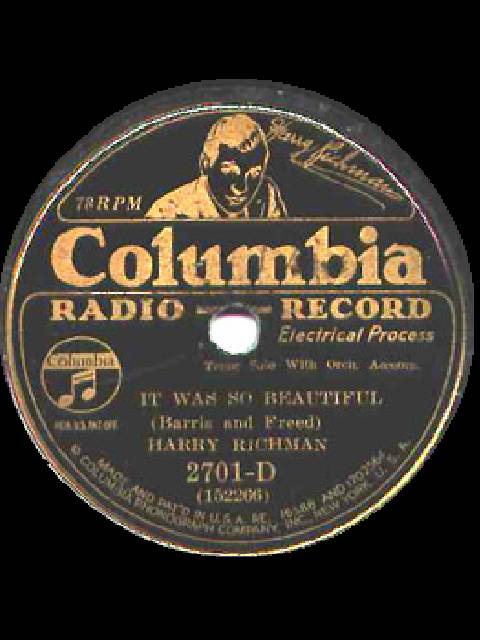 Annette's version would be unissued for many, many years. This song would be sung in not one but two
motion pictures in 1932. The first and biggest was "The Big Broadcast" where it would be sung
by Kate Smith and the second was an MGM movie called "Blondie of the Follies". The song was written by
Arthur Freed and Harry Barris (of the Rhythm Boys). Kate Smith's version is much, much different than Annette's.
I suppose because of the fact that it was a major motion picture, Kate wanted more
dramatic effect for the song, but her rendition leaves one wanting more. Her version
is so slow and melodramatic that you want her to pick up the pace a bit.
Granted it is slow song, but Kate's version seems just out of place for this big of a picture.
It would have been quite interesting to see Annette sing her version in this movie.
The timing of the song couldn't have been better. It was during the last 7 minutes of the
show. Cab Calloway followed with his song "Kicking the Gong Around" and then Bing
finished with his signature song, "Please", accompanied by Eddie Lang. In fact, Eddie Lang
could have done double duty. He could have accompanied Annette along with Jimmy Dorsey
and they would have had quite a number! (I can see Bing now saying, "Hey! I'm the star of this
show!)
Ironically, Annette was bigger in radio at that time then many of the stars that appeared in "The
Big Broadcast". The Big Broadcast was Paramount's way of giving movie audiences a glimpse
of what the major radio stars of the day sounded like and looked like.
I have not seen or referenced any data about whether Annette was asked to work on this movie
or whether she was asked and turned it down. The very fact that her version of "It was so
beautiful" was rejected at the time, makes one wonder if there was any link to her version
being rejected at the time. It's possible that if her version became popular at the time
it would detract from Paramount's version. It was in Columbia's best interest to promote Harry
Richman's version as his version was on their "premier" Columbia label. Annette was an
"Exclusive Velvet Tone" artist up until 1931. It was almost a year after her last
recording with Velvet Tone and Harmony but there still may have been problems with
Columbia had she recorded this song and released it.




I
There is no doubt that Annette's version is very strong and could have been quite a popular
song had it been released at the time. It featured:
1. Manny Klein (trumpet)
2. Jimmy Dorsey (clarinet)
3. Fulton McGrath (piano and celeste)
4. Carl Kress or Dick McDonough (guitar)
5. Artie Bernstein (string bass)
6. Chauncey Morehouse (drums and vibraphone)
(liner notes from Sunbeam P-512)
What makes this recording even more intriguing is that this is the first recording that Annette
would make with the new "American Record Corporation". Her last recordings for Harmony and
Velvet Tone Records would be on September 1931 and this recording would be almost a year later
in August of 1932.
With such powerful and accomplished musicians you would have thought they could have made
multiple takes and overcome any "technical" problems that they had. Certainly Annette released
much weaker numbers without a problem.
In the end, this number may have just been too hot to handle. They may have thought of releasing it,
but with Columbia and Paramount both releasing versions and Annette between companies it could
have been the ARC executives that put a stop to it. Ironically, on the same day Annette recorded
one of the most powerful songs of her career with the same musicians.
"We Just Couldn't Say Goodbye"
would be the only song she recorded a video for and where we can see in top form.