Maxwell House's Showboat

adapted from the play by Jerome Kern

Premiering in 1931, the Maxwell House Showboat radio show quickly became the most popular radio show on the air. On June 12,1933, Maxwell House's Showboat performed the actual Jerome Kern Play "Showboat". Annette played one of the principal characters in the play. To piece together the play one must go back to the original 1929 Showboat movie and also the only remaining video footage from the Showboat radio show to line all the characters up. Both of these historical pieces are extremely rare and only recently has the entire 1929 movie been recontructed on Turner Classic Movies. Still rarer is the actual recording of this radio show. This transcription was recorded on aluminum discs which are quite fragile and intended only for immediate review not long term archival. Over time many of these early recordings have been lost. Also you must remember that the radio show had an ensemble of radio performers to play all the parts and thus for some parts actors would have to play the part of two characters and fill in where necessary. With radio, the audience could not see the actors so it was quite easy to have actors play multiple parts. This was the case for this show. In the introduction to the performance the announcer does not hide the fact that the showboat cast and crew will perform the original Jerome Kern Showboat (filling in various parts). This included Lanny Ross as Guy Ravenal (as Annette's leading man). Annette would play the daughter of Captain Andy Hawks (the Captain of the Cotton Palace). Annette would act thorought the play and performed two songs which will be included below. The following tape then is extremely rare and was provided to me by Mr. Tom Bewley and Elizabeth McCloud. I will be including short excerpts of the show, but due to copyright restrictions each segment will be less than one minute. I will be contacting both Turner Classic Movies and NBC to get permission to play longer excerpts of this show on the webite.
Elizabeth is a noted historian and has an excellent website about archival recordings at: www.midcoast.com/~lizmcl/links.html


Principal Characters


Captain Andy Hawks-Captain of the Cotton Palace

Parthenia Ann Hawks-his wife

Magnolia Hawks (Nola)-played by Annette Hanshaw

Steven Bacon-An actor on the Cotton Palace

Julie Dozier-the wife of Steven Bacon and an actor on the Cotton Palace

Guy Ravenal-Actor and love interest for Annette Hanshaw (played by Lanny Ross)

Intoduction of Characters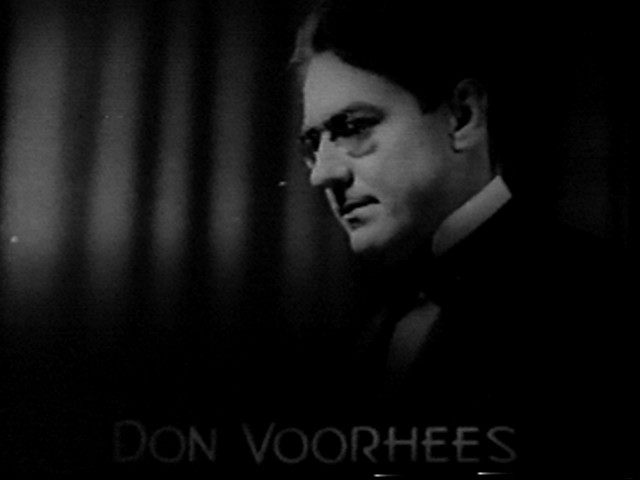 Don Voorhees conducts the Maxwell House Showboat Orchestra











Storyline
After the introduction of characters, their is a commercial for Maxwell House coffee:
Maxwell House Coffee Commercial and Cast Introduction

After the introduction of characters we hear a Chorus of "Showboat" and proceed in the introduction of Captain Andy Hawks. Partrinica Ann Hawks is calling out for Captain Andy who is constantly running about. Mrs. Ann Hawks is constantly criticizing her husband and is very overprotective of their daughter Magnolia (Nola) played by Annette.
Captain Andy Introduction (short excerpt less than one minute)
After the introduction of Captain Andy, we are introduced to the leading man in the play, a Mr. Guy Ravenal. Guy Ravenal is played by the actor Lanny Ross. Lanny Ross is one of the regulars on the radio show and will later play the husband of Magnolia Hawks (Annette Hanshaw). In this segment he is introduced by the Sherriff who does not take kindly to Guy as Guy supposedly killed a man in another town. Here he is warning him not to stay in town to long. After his introduction, he breaks out in a song, "I'll Drift along". Then he bumps into Annette and they have there first consversation.
Guy Ravenal Introduction and song I'll Drift Along" (short excerpt)

It is at this point that Annette meets Guy Ravenal. They talk and then Annette runs away to declare "I love him" to her friend Julie Dozier. It is one of two songs that she sings in the play showboat. We don't have much to compare it with as the original movie was part talkie and the sound elements that remain from Showboat have all but been lost. There are only a few remaining sound scences and unfortunately the parts with any songs in them are lost. (At least for the time being). However, it doesn't appear that the actress in the Showboat movie was much of a challenge to Annette. Imagine if you will, Annette playing the part of Magnolia Hawks. With her voice she would have been the hit of the show.
Annette Hanshaw singing "My Bill"
Later she sings another wonderful song. It is "Can't Help Lovin that man". It is tribute to her versatility that she sings this song and her voice is so clear and melodic that even with the rather crude recording techniques they had back then, she comes through all the background clutter that the old mikes would pick up and sounds great. It is almost as if everyone on the set stopped what they were doing to hear her sing. This 5 minute interlude shows Annette as quite playful and coy and quite a cute actress in her own right. Had she the will she could have been a box office smash. In this scene she is actually playing with Lanny Ross, having a bit of fun with him. But she does it with out any pretense. She coyfully says, "I just play the piana"! Listen to this delighful scene and picture the same interlude that was played so many times later with Ginger and Fred. Annette could have had anything she wanted. In this short 5 minute interlude she plays, she acts and she sings the song as a sultry Lee Morse would, a worldly woman about town that can't stop lovin her man. And yet when she starts out the scene she is just the little girl on her father's boat.
Annette Hanshaw singing "Can't Help Lovin that man"
Finale and Final Chorus of Showboat