Notes on "Brian Rusts" Commentary



"Annette Hanshaw was a star despite herself, for she did not really like the world of show business, and hates most of her records", writes Brian Rust in 1977. It is true Annette the was the "reluctant" star. She did have an interest in the music of her day and that is why her father bought her a little music store that she called "The Melody Shop". In it she had all the music of her day where she had the ability to pick out the kind of music that she liked and begin to form her own music talents. Annette was quite lucky as she was unencumbered by the music "business". She could develop her own musical style without any stage manager or record executive telling how to sing a tune or cast a note. And don't forget that she did this before Bing Crosby or Louis Armstrong or Rudy Valle became famous. When Annette started, the music business was about to change and it was leaving the era of the acoustic microphones and getting into electrical recordings. Annette would use this new electrical recording to full advantage. She would ad-lib her lyrics and music notes just like Bing and Louis but without any of their influence because she developed her style before they were household names. She remembered later that what she wanted to do is create her own musical style and one that was different. Her style was one of creativity and integration. She would incorporate the best of black and white musical styles, the best boop, boop imitation , girl next door and at the same time, the torrid, go for broke torch singer. She could sing an Ethel Waters, "Am I Blue" and then come right back and sing an innocent "I Want to Be Bad". She wanted to capture every musical style and virtually every emotion on a musical song. She runs the gamut from shy little innocent miss, to "This Little Piggy, to "What wouldn't I do for that Man". Helen Kane said once about her, "that Annette sings my songs better than I do". Quite a comment for someone who developed her own musical signature. Annette could captivate us with a Mae Questal imitation and come right back and sing a ballad with the great Clarence Williams. Although their paths did not really cross it is amazing some of the similarities with integration that was taking place with Bing and Annette. Both would sing with some of the same musicians as close as a month apart. And both would integrate both black and white musical styles. Annette set herself no limits to her musical styles. She knew "styles" and what she liked, not able to read a note of music herself, she just had a feeling that she wanted to be "different".

"Wally Rose"

The great Wally Rose is the strength behind Annette. Annette had the talent but she could have never been anything but a simple "Melody Shop" record store owner if it wasn't for the great and imaginative Wally Rose. He is the one that saw the talent that Annette had. He is the one that just happened along at Annette's father's roadhouse and heard her singing. He is the one that set her up for her first audition. What a chance he was taking! He had that determination to see a talented person and follow through with bringing her the chance to play with the greatest musicians of the day. Even when the powerful Moe Snyder, the husband of Ruth Etting, used his power to keep Ruth Etting as the primary star for Columbia Records, Wally would get Annette contracts with the dime store labels. As if by necessity and perhaps by inclination we started to see the multiple personalities that Annette would develop. Some of the names even Annette wouldn't know about as in England her records were released with such names such as "Marion Lee" or "Betty Lloyd" or "Ethel Bingham". Perhaps this is in someway a reflection on the singer at the time, "Marion Harris". We will never know. At any rate, in the United States when Annette came under the Columbia dime store labels she became known as "Patsy Young"((He's so Unusual and I think You'll Like It), "Dot Dare"(I Wanna Be Loved By You and Is There Anything Wrong with That?), "Leila Sanford"(If I Can't Have You) and "Annette Hanshaw". Each singer would develop their own "personality". Dot Dare would become the "daring" young Annette singing such songs as "I Want to Be Bad" and Is there Anything Wrong in That?". However in some cases the record producers would get a little out of hand with their pseudonyms and we would have Annette as Dot Dare on the Harmony Label on the song "I Wanna Be Loved by You and Is there Anything Wrong with That and as "Patsy Young" on the Velvet Tone label. They were the same songs just different labels.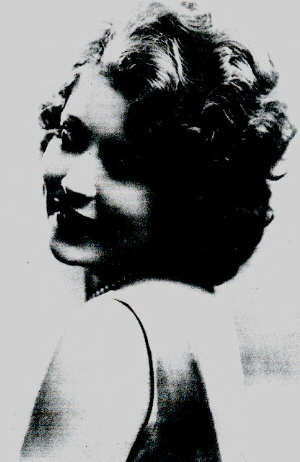 Annette's Phobias

Annette was self effacing, not quite sure why everyone would like her music so. But she liked to be coy and had a phobia about her age. She liked to play the innocent girl next door while as the same time she was hoodwinking the public with her age. "Frankie, don't ever call me Auntie" , she would tell her young nephew because someone might find out her real age. If you look at the record she had everyone believing she was only 15 when she started in show business when in fact she was ten years older. An everyone fell for it. It was part of the game, that she played, playing the "Girl Next Door". If you follow any of her lyrics you can find her changing the lyrics in the second chorus on many of her songs, because "she wanted to be different". She didn't know it at the time but she was "integrating" all the old musical styles that had been around for a while and creating her own style that would be quite her own. And she did it before Crosby! This was the pre Crosby era. When the Radio Land Magazine poll was taken in 1933 Bing Crosby was down on the list. He was just starting out his musical career. Annette would sing virtually every other song that other popular singers sang at the time and she was not afraid to confront any musical style. As she left the recording business and got into radio, every time she signed onto a radio program, it became a hit. She never talked about her acting abilities but she became quite a good actress on the showboat radio series. But when she began to sing "My Bill", its as if the show stopped to listen to this woman sing. She would put her heart into the song. Annette could sing a torch song with the best of them. But even though she could do it, she liked to play and play she did on many a song.



-Joe Werner